Aleksandre Roderick-Lorenz, Viola, Violin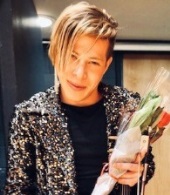 Venezuelan violist, conductor and pedagogue Aleksandre Roderick-Lorenz hails from Caracas where their musical foundation began under the auspices of the famed "El Sistema" organisation. They received their BMus degree from Syracuse University's Setnor School of Music, where they won first prize in the Concerto Competition and were awarded the Certificate of Teaching Excellence. Their principal teachers were Laura Bossert, Richard Fleischmann and Michael Klotz; they also coached with Steve Ansell. Terry King, Peter Zazofsky and Ivo Jan van der Werff.
A passionate teacher, Aleksandre serves on the faculty of Miami's ViolaFest at the New World School of Arts, the ArtsAhimsa Music Festical, and formerly at the International School of Music in Miami, where they are still a visiting artist. In New York they served as Teaching Assistant to Professor Laura Bossert at Syracuse University, and as the musical director of La Casita Cultural Center.
Aleksandre is a member of the Miami Symphony Orchestra (MISO) and principal violist of the Lyrica Boston ChamberOrchestra. As a chamber musician, they have collaborated with an eclectic roster of artists including Plácido Domingo, Andrea Bocelli, Johnny Mathis, Celtic Woman and the Electric Light Orchestra, Stephen Hough, Christopher O'Riley and Natalie Cole, among many others. Aleksandre has performed at the Latin Grammy, Billboard Music Awards, Premios Juventud, Miami Life Awards, Lo Nuestro Awards, and has made numerous televised appearances for Venevision, America TV, Ávila TV, Mega TV, Telemundo and Univision.
Aleksandre won first prize at Univision-Sabado Gigante's Televised Talent Performance, and recently made their national radio debut at WQXR's McGraw Hill Financial Young Artist Showcase with Robert Sherman.
"Alex is an amazing teacher. They are extremely musical and taught M___ that playing notes is easy, but understanding the music and its value is what is important. They are strict but at the same time all the students enjoyed their classes. They put their maximum effort in helping students understand."
- Parent of student from age 6 up
"Aleksandre teaches in a way which makes it obvious that they love to educate and help students achieve their goals. We believe that any student who gets to work with them is very lucky!"
- Director, International School of Music, Miami, Florida
"Aleksandre the magical musician – a daring young artist, and a transcendent musician breaking all boundaries!"
- Lori Singer, American actress and cellist